Introduction
In the previous article, we have seen about Announcement list in details. We have seen that how to work with Announcement lists In this article we have seen how we can work with custom lists. In this article, I am going to explain what is Contact List in SharePoint.
In this article, I am going to cover the following topics,
Background
Introducing Contact List
Creating Contact List
Advantages of Contacts Lists
Operations involved in Contact Lists
Summary
Background
 In this article, we have seen what SharePoint lists are and why we use lists. There, we saw that we use SharePoint lists to store our data in a tabular format, same as we do with SQL Database Tables or MySql Database Tables.
Now, imagine a situation; you have to maintain contact information for your employees or your team members. You will define the attributes to be included, such as First Name, Last Name, Email Address, Phone Number, Address, City, Birthdate, and many more.
Now, this can be done in multiple ways. One way is by creating a custom list in SharePoint and creating required fields with appropriate field types; while another way is to create a SharePoint Contact list in which a default template is provided by the SharePoint to maintain the contact information.
Let's explore how SharePoint Contact list helps us in maintaining the contacts information and how it is different from Custom Lists.
Introduction to SharePoint Contact List
SharePoint provides a default list template using which we can create a list that can be used to maintain our contact information. When we create a SharePoint Contact list, the basic fields related to Contacts automatically get created.
For example, when you create a Contact list, you will have a few columns, such as First Name, Last Name, Date of Birth etc. created by default with the list. So, you do not need to recreate it again. You can just reuse that fields.
Creating Contact lists
In order to create a contact list, please log into your SharePoint site and follow the below-given steps.
Step 1
Click on the "Settings" icon on the top right of the page and click "Site Contents".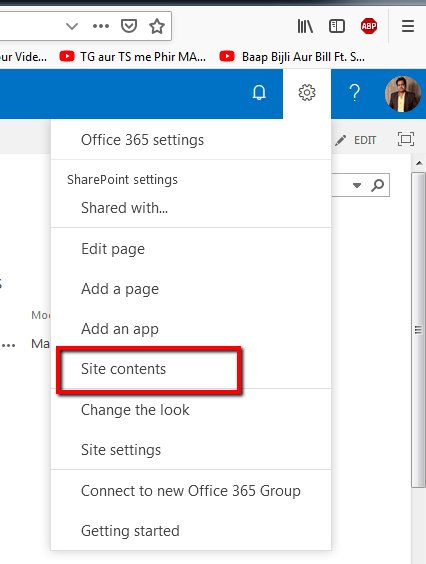 Step 2
Now, click on the "Add an app" option.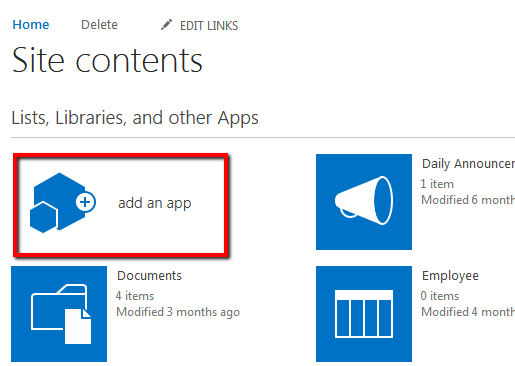 Step 3
On "Add an app" page, select the "Contacts" list template. You might have to search the Contact list template into the search box and then click on the "Contacts" icon.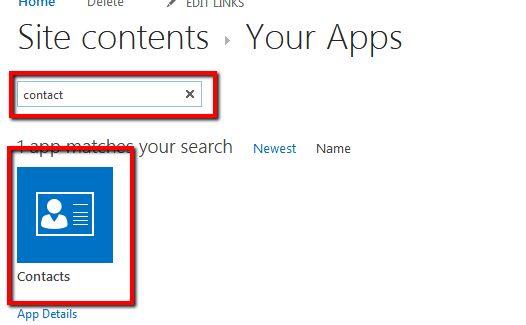 Step 4
Now, enter the name for the contact list and click on "Create".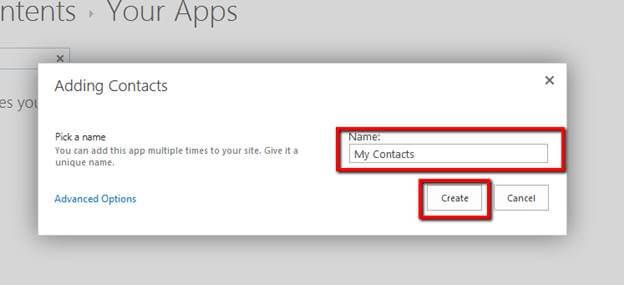 Step 5
Once you have clicked on the Create button, SharePoint will create a contact list with the name "My Contacts" and you will see the following screen.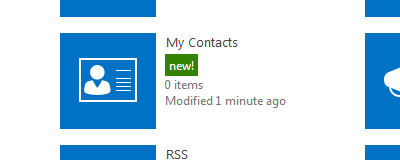 Step 6Now, click on this newly created "My Contacts" list and it will open the list view screen as shown in the below image.

Here, you can see that the Last Name, First Name, Company, Business Phone, Home Phone, and Email Address columns are automatically created and a default view with the name "All Contacts" also got created.
Step 7
Apart from the above-mentioned fields, SharePoint creates too many other fields with this contact list. But those fields are not included in the default view, so we cannot be able to see into the list view screen. In order to see the list of the fields that SharePoint has automatically added, you have to visit the "Contact list settings" page.
Step 8
In order to check what are the fields created by the contact lists, let us open the list setting page. To open the list setting page, click on the "LIST" tab from the ribbon and click on "List Settings". Scroll down to this page and you can see all the associated fields with the contact list. You will find that all the basic fields required to maintain a contact's information are already created while creating a contact list. For detail, please check the below snap.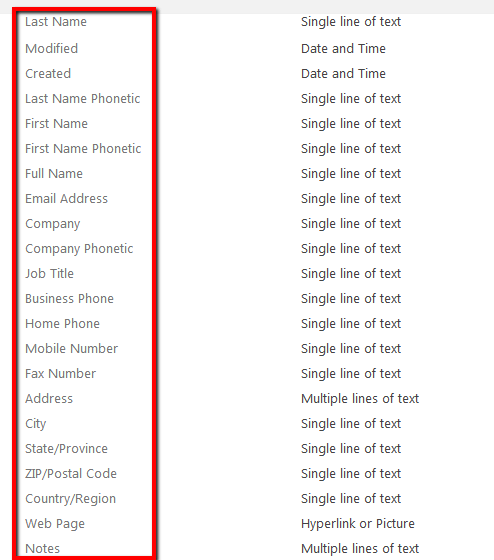 Advantages of using a Contact List in SharePoint
The basic and important benefit of the Contact List is that it provides the standard metadata related to a person or contact by default. No need to create common properties, like First Name, Last Name, Address etc.
It provides some special fields as well, such as Last Name Phonetic, First Name Phonetic, Company Phonetic. These fields are used in searching the contacts.
Operations Involved in Contact lists
The contact list comes up with the default metadata columns. It doesn't mean we cannot create any custom columns; we can always create a new column or delete an existing one from the contact lists based on our requirement.
We can also customize the Views of the Contact list. All of the tasks discussed in the previous articles of this series are applicable to this contact list also. 
Summary
In this article, we have seen what contact list templates are in SharePoint and how we can make use this contact list based on our requirement. We have also seen how to create the Contact list and how to manage it.
Any question or feedback or suggestion, please do comment and let me know.