Introduction
In the previous article, we have seen about Standard View and Datasheet view in detail. We have seen how to create the Standard Views and Datasheet Views, also we have seen some troubleshooting tips Datasheet view. So, in this article, I am moving one more step ahead and I will be explaining to you about Gantt View, available in SharePoint.
In this article, I am going to cover the following topics.
Background
Introducing Gantt View
Creating Gantt View
Editing and Deleting Gantt View
Advantages of Gantt View
Background
You must have heard or read the sentence "A picture is silent poetry" or "Visualization is best way to convey any idea". That's why graphical charts are used to display information, and based on that it becomes very easy to make a decision. Now come back to SharePoint, you have a task list where you have a task, a start date and a due date of the task, and you want to see the report of the tasks, so you can create various Standard views such as pending task, my task, completed tasks etc. In order to represent the task in graphical view, SharePoint provides a Gantt View. Let's explore this view in details.
Introducing Gantt View
Gantt View is a graphical representation of the data that involves some date time values. For example, below is the sample representation of the Gantt View

This Gantt view can be created into the Calendar list, tasks lists, issue lists or in a custom list with at least 2 date columns. Let's understand step by step while creating Gantt View in SharePoint
Creating Gantt View
In order to create Gantt View, open the list in which you want to create this view. You can choose any list with date columns but I am selecting Tasks List as it has predefined columns. So here is my task list with a few sample tasks.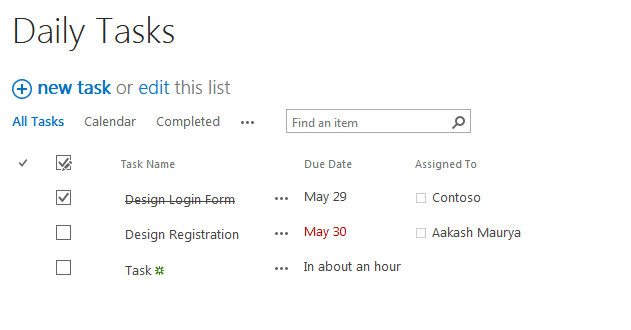 Step 1
In order to create a new view, you can always follow the steps given in this article. Once you click on Create a View option you will have the following screen available. Click on Gantt View link.

Step 2
Every other column description is the same as we discussed in this article, the only new settings are Gantt Columns. This configuration will be used to define the information in Gantt View. Here, I have configured the columns as per requirement.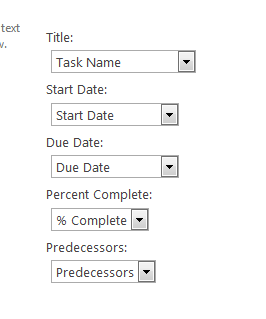 Step 3
Click on Ok and you can see that our view is created. The view will look like the following.

This can be more useful if you are building some project management tools where you would like to track your tasks, your issues, or your schedules etc.
Editing and Deleting the Gantt View
In order to edit and delete the Gantt View, I have already written the article. You can follow the same article and refer to that.
Advantages of Gantt View
There are many advantages of Gantt view representation. A few of them are,
Due to the graphical representation, it becomes very easy to understand.
As Gantt View deals with the dates, it gives a very clear cut understanding of tasks or information related to dates such as deadlines, date wise information and many more.
It help us to understand the data related to date and time so it becomes more efficient to manage your time for your projects or manage the projects efficiently.
Limitations of Gantt View
There are also some limitation of Gantt Views,
Again, it deals with Date and Time so the user has to update the information regularly to keep the Gantt view up to date.
If there is too much information, it becomes very difficult to manage the things on a single view.
Summary
So, in this article, we have seen very basics of the Gantt View in SharePoint. Gantt View is used mostly in task lists and issue lists where we have to predict something and take any decision.
In the next article, I will be explaining about calendar view in detail. If you want to learn more about Gantt View then here are some more references for you.
Any question or feedback or suggestion, please do comment and let me know.