In the previous article, I have explained everything about Currency and Yes; No type in SharePoint lists. We have seen the different behavior of the column in Lists.
Now in this article, I will be explaining Person or Group Column types. In this article, I am going to cover the following topics in detail.
Background
Introduction to Person or Group columns
Properties and Options available in Person or Group columns
Summary
Background
As we are aware that every user in SharePoint is stored in Microsoft Active Directory. If it is SharePoint On-Premises, then the user details are stored in Microsoft Active Directory on Windows server, and if it is SharePoint Online then, in that case, the user details will be managed in Microsoft Azure Active Directory managed by Microsoft. SharePoint Provide a special type of column that allows us to store the information about the users in SharePoint. The name if the column is Person Or Group. Let's explore this column in type in details in this article.
Introduction
In SharePoint, there is a concept of Groups. What are groups that I will explain you in detail in upcoming articles? When the user has to store the value of Person or Group then, in that case, we have to use Person or Group column type. Person or Group column act like a autocomplete field. It gives you the value as soon as you type the first 4 character if the user's name. If the username you are typing is frequently used, then in such case it auto-suggest the name by entering 1 or 2 characters only. This column contains various properties as shown in the below figure.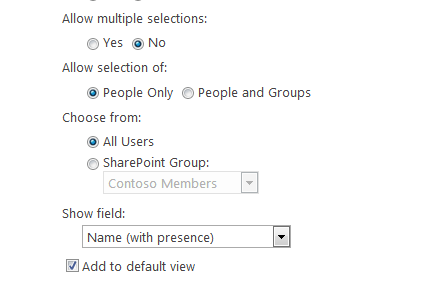 Allow multiple selections

This allows the user to select more than one users or groups in the column.

Allow selection of

This contains two values, People Only and People and Groups. If People Only is selected then it will fetch only users in autocomplete while entering user details. If it is People and Groups, then, in that case, it will autocomplete the field with users and group names also. Unfortunately, we don't have the option as Group Only.

Choose from

As the name suggests, it will allow the user to configure which place the person or user's name should autocomplete. If it is selected as All Users then, in that case, it will fetch the details from all users available in the active directory.
And if SharePoint Group is selected, then it will allow users from the selected SharePoint Group.

Show field

It contains various values. The values include:
Name (with presence)

This will display the user as username and link to the user profile. This will look like as shown in below figure.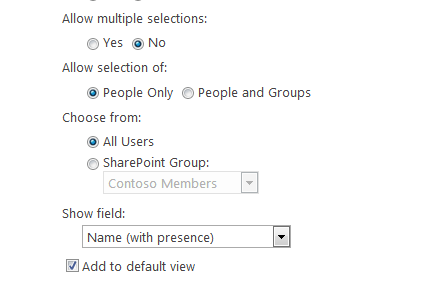 Picture Only

This will display the value as Picture with a link to the user profile.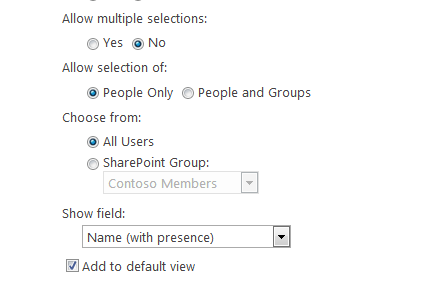 There are many values for the fields such as Title, Name and Picture and many more such values. This control is also called People Picker control which allows the user to pick up the people from Active Directory.
By default, these columns types are created when we create any list or library in terms of Created By, Modified By, Assigned To etc. A full list of available values is shown in the figure.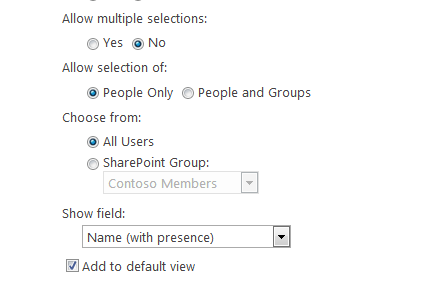 Summary
In this article, we have seen basic information about Person or Group column type. We have also seen various options available for Person or Group types. In the next article, I am going to cover Date Time column type in details.
Any question or feedback or suggestion, please do comment and let me know.